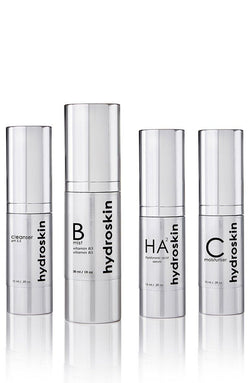 The Starter Pack is perfect for those on-the-go or as an introduction to HydroSkin's Cleanser and 3 Steps Set.
The 3 Steps are designed to work together. The systems unique wet-layering application technique provides maximum results. It rapidly hydrates, plumps and firms skin and reduces hyperpigmentation, fine lines and wrinkles. 
Contains: 

Cleanser gentle and soap free for clean, soft, moist skin. (15ml)
Step 1: Vitamin B Mist increases hydration, reduces hyper-pigmentation, brightens skin, reduces redness and evens skin tone. (30ml) 
Step 2: Hyaluronic Acid Serum increases hydration, improves skin texture, plumps, firms and smooths skin and reduces fine lines and wrinkles. (15ml)
Step 3: Vitamin C Moisturiser locks in hydration, boosts collagen, fades age spots, evens skin tone, reduces fine lines and wrinkles. (15ml)
or
Step 3 Alternative: Moisturiser Light locks in hydration, anti-inflammatory, regulates oily skin. Perfect for problem skin and hot weather conditions. 
Customer Testimonial: "I've been following The 3 Steps routine for just over a year now and my skin has never looked or felt so good. I love the simplicity of this no-fuss, minimalist approach. A highly recommended solution for those who aspire to buy less and choose well ;)" 
Complete Ingredients List 
Vitamin B Mist: Niacinamide (Vitamin B3), d-panthenol (Vitamin B5), Organic Aloe Vera, miniHA™ (Hyaluronic Acid), Organic Vegetable Glycerin, Germall plus  
Hyaluronic Acid Serum: miniHA™ (Hyaluronic Acid), Hyaluronic Acid (HA), Germall Plus
Vitamin C Moisturiser: Vitamin C (AAP), Niacinamide (Vitamin B3), d-panthenol (Vitamin B5), miniHA™ (Hyaluronic Acid), Organic Meadowfoam Seed Oil, Organic Avocado Oil, Organic Sweet Almond Oil, Organic Vegetable Glycerin, Olivem 1000, Olive wax, Olive-slic, Cetearyl alcohol, Germal plus
Moisturiser Light: Niacinamide (Vitamin B3), d-panthenol (Vitamin B5), miniHA™ (Hyaluronic Acid), Organic Sandalwood Seed Oil, Organic Hazelnut Oil, Organic Argan Oil, olivem 1000, Olive wax, Olive-slic, Cetearyl alcohol, Capryloyl glycerin/sebacic acid, Germall plus
All active ingredients are added in percentages equal to or greater than clinical trials 
No: Nasties, fragrance, fillers, sulphates, parabens or animal testing
Yes: Vegan & cruelty-free
Yes: Ethically made in Sydney, Australia  
Suitable for all skin types