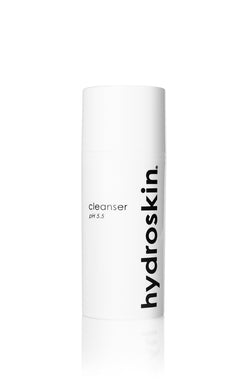 Free Shipping OVER $100
100ml
Hydroskin's Face Cleanser is gentle, anti-inflammatory, sustainable and soap-free. Made from all-natural ingredients it leaves skin clean, soft and moist – not tight and dry!
Active Ingredients

Chamomile hydrosol is Chamomile Roman diffused in distilled water. Chamomile Roman has been used for centuries to calm acne, rashes, eczema, wounds, dermatitis, and dry and itchy skin.
Coco Betaine is derived from coconut oil and known as the "gentle cleanser", it makes soft foam and washes away grime leaving no residue.
Polyglucose (sugar/glucose) is one of a new generation of cleansers derived from sugar starch. It is just as effective as sulphates, but extremely mild and non-toxic.
Olive Oil Esters (water-soluble olive oil) is water-soluble olive oil. It Is very hydrating and will not cause dry or tight skin.
Complete Ingredients List: 
chamomile hydrosol (organic), cocamidopropyl betaine (coconut), polyglucoside (glucose/sugar), olive oil Ester (olive oil), polyquaternium 7, thickener (coconut), pearlizing wax (vegetable based), germall plus
How to Apply
Rub 2 - 3 pumps of cleanser with lukewarm water between palms. Apply to wet face, neck and chest massaging gently. Rinse thoroughly with water and pat dry. Follow with The 3 Steps.