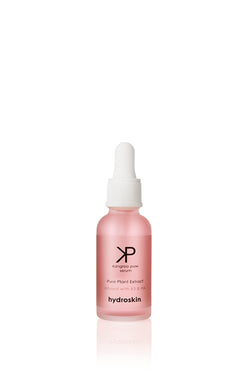 Free Shipping OVER $100

30 ml | 1 fl oz
HydroSkin Pure Plant Extract Kangaroo Paw Serum is a potent Australian native serum that encourages cell growth and renewal, especially when used with extracts high in vitamin C, to leave skin hydrated, plump and more even toned.
Benefits for Skin
Stimulates skin's natural renewal process to firm and tighten skin 

Reduces hyperpigmentation (sunspots)

Reduces fine lines and wrinkles

Restores a compromised skin barrier

Increases Vitamin C absorption and performance
Ingredients
Pure (100%) Organic Australian Kangaroo Paw Extract is a native Australian plant rich in ferulic acid, which helps reduce the appearance of fine lines and wrinkles and helps reduce hyperpigmentation. It contains linoleic acid, which is known for its ability to strengthen the skin's barrier and lock moisture in to skin. Kangaroo Paw Extract also works to increase the absorption of Vitamin C to assist with boosting collagen production and improving skin tone.
Niacinamide (Vitamin B3) is an excellent cell regenerator that radically reduces hyperpigmentation, evens skin tone and fades age spots. It also improves the skin's protective barrier, so it better retains moisture.
miniHA™ (Hyaluronic Acid) is a scientifically advanced, low molecular-weight Hyaluronic Acid that deeply penetrates the skin down to the collagen-producing layer of the dermis. It is the ultimate HA to plump skin and improve hydration.
Full Ingredients List: Organic Kangaroo Paw Extract, Distilled Water, Niacinamide (Vitamin B3), mini HA™ Hyaluronic Acid, Glycerin, Sodium Benzoate
How to Apply:
Morning and night (on clean skin), apply 4 - 6 drops to the palm of your hand, rub together, and apply evenly to face, neck and décolletage. Follow with the HydroSkin 3 Steps or a Face Oil/Moisturiser.
Highly recommended for use with both Davidson Plum Serum and Finger Lime Serum to maximise visible results.
Indigenous uses: Kangaroo Paw (Nollamara / Kurulbrang / Yonga Marra) is native to Western Australia. The leaves and flowers are commonly used to aid with skin repair and treat respiratory conditions.
Suitable for all skin types