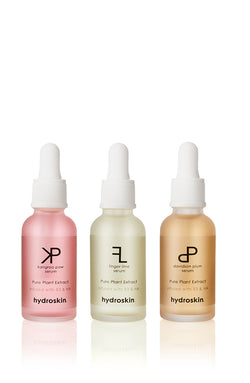 PURE PLANT EXTRACT SERUMS SET
Free Shipping OVER $100
HydroSkin Pure Plant Extract Set is a collection of three Australian native serums that feature pure plant extract formulas infused with niacinamide and hyaluronic acid for impressive targeted skincare results for all skin types.
Set Includes:
1x Kangaroo Paw Serum (30ml)

1x Finger Lime Serum (30ml)

1x Davidson Plum Serum (30ml)
Ingredients
Pure (100%) Organic Australian Kangaroo Paw Extract is a native Australian plant that is rich in ferulic acid, which helps reduce the appearance of fine lines and wrinkles and helps to reduce hyperpigmentation. It contains linoleic acid, which is known for its ability to strengthen the skin's barrier and lock moisture in to skin. Kangaroo Paw Extract also works to increase the absorption of Vitamin C to assist with boosting collagen production and improving skin tone.
Pure (100%) Organic Australian Finger Lime Extract is a native Australian plant that is rich in Vitamin C, which is essential for collagen production and helps to brighten and even out the skin tone. It is also rich in Vitamin E and antioxidants that help to protect the skin from environmental stressors and improve the skin's ability to retain moisture, leading to a more hydrated and plumper complexion.
Pure (100%) Organic Australian Davidson Plum Extract is a native Australian plant that is high in antioxidants, specifically anthocyanins and flavonoids, which help to protect the skin from damage caused by free radicals. Davidson Plum Extract stimulates the production of both collagen and elastin. It also contains gallic acid, a naturally occurring AHA that works as a gentle exfoliator to slough away dead skin cells and promote even skin tone. The anti-inflammatory compounds in Davidson Plum Extract help to soothe and calm irritated or inflamed skin, providing relief from redness and dark circles and puffiness under the eyes.
Full Ingredients List: Please refer to each individual serum for complete ingredient lists.
How to Apply:
Morning and night (on clean skin), apply 4 - 6 drops of each serum evenly to face, neck and décolletage. Follow with the HydroSkin 3 Steps or a Face Oil/Moisturiser.
While they work wonderfully alone to improve your top skin concerns, the results are even more amazing when you combine all three Pure Plant Extract Serums into your daily skincare routine.
Suitable for all skin types