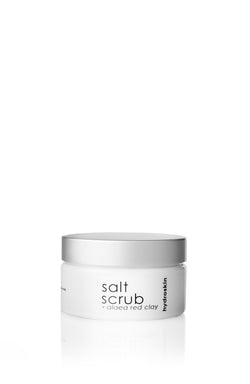 Salt Scrub with Alaea Red Clay
Free Shipping OVER $100
125 grams | 4.4 fl oz 
Salt Scrub with Alaea Red Clay is a hydrating, purifying, all-natural exfoliant. It detoxifies the skin of pollutants and toxins and stimulates the production of new skin cells. The deep cleanse smoothes and brightens skin, keeping pores from becoming clogged and leaves skin a healthy glow! 
Active Ingredients  

Sea Salt with Alaea Red Clay is harvested from volcanic pools. The salt and clay contain an infusion of up to 80 natural minerals and electrolytes, including potassium and magnesium. These can be absorbed through the skin to eliminate toxins and promote a smooth, healthy complexion. 
Avocado and Olive Oil Cream is the base of the scrub and the ultimate hydrating companion.
Complete Ingredients List:
sea salt/alaea red clay (organic), H₂O, avocado butter, avocado oil (organic), olivem 1000, olive wax, olive squalene, olive-slic, structure XL (maise), germall plus
How to Apply
Take a scoop of scrub, rub it between your fingers and massage gently onto a dry face, neck and chest for 30 seconds. Rinse off. If you want a deeper cleanse, or have oily/problem skin you can leave it on for up to five minutes.
Quick Mini Facial
Apply scrub and leave on for two minutes, wash off with cool water, pat dry and apply HydroSkin's Manuka honey UMF 20+ Mask for 20 minutes and rinse off in cool water. The ultimate quick pick me up for your skin. Follow with the 3 Steps.
Suitable for all skin types
Blogs: Benefits of Exfoliation, Best Home Facial, Why Double Cleanse?
***