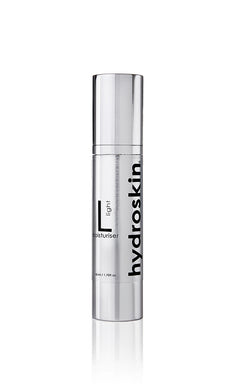 Free Shipping OVER $100
50 ml | 1.6 fl oz
HydroSkin's Moisturiser Light is non-comedogenic (anti-acne), perfect for oily or problem skin and hot weather conditions. It contains a combination of natural emollients that won't encourage the production of sebum or block pores. Just like the C moisturiser, it contains niacinamide, d-panthenol and miniHA (hyaluronic acid) in quantities equal to or greater than amounts proven to work in clinical trials. This is a super-light formula that is anti-inflammatory and will calm the skin while providing all the moisture it needs.
Active Ingredients

Niacinamide (Vitamin B3)  is an excellent cell regenerator that radically reduces hyper-pigmentation, evens skin tone and fades age spots.
d-panthenol (Vitamin B5) is among the most effective of humectants to smooth and hydrate the skin.
miniHA™ (Hyaluronic Acid) is a scientifically advanced low molecular weight Hyaluronic Acid that deeply penetrates the skin down to the collagen-producing layer of the dermis. It is the ultimate HA to plump skin and improve hydration.
2 Organic Emollients: Hazelnut Oil and Argan Oil are known as "dry" oils. They are very easily absorbed into the skin and help reduce the overproduction of sebum, which can cause oily skin and breakouts. These oils are also anti-inflammatory.
Complete Ingredients List: 
H₂O, rose water (organic), miniHA™  - hyaluronic acid, niacinamide (B3), d-panthenol (B5), glycerin (organic), organic oils: hazelnut & argan, olivem 1000, olive wax, olive-slic, cetearyl alcohol, capryloyl glycerin/sebacic acid, germall plus
How to Apply
Morning and night. After applying B Mist and HA² Serum to clean skin, apply 3-4 pumps of Moisturiser Light to face, neck, and chest. Follow with UV protection in the morning.
Suitable for normal, oily and problem skin 
Blogs: Moisturiser Light | Non-comedogenic
***